Preview
The Arena
by Christopher Podhola
Copyright© 2019 by Christopher Podhola
Science Fiction Story: Whitney and Tommy Leighton are more than they appear to be. The twins were born in our dimension, but it wasn't just a birth. It was a rebirth. They originated in a another dimension that runs along the same parallel as ours. In the other world, Whitney is a Baran-Dok-Toi Prim warrior, and Tommy is a Prectock, but they know nothing about that. Other than the strange dreams that Tommy is beginning to have.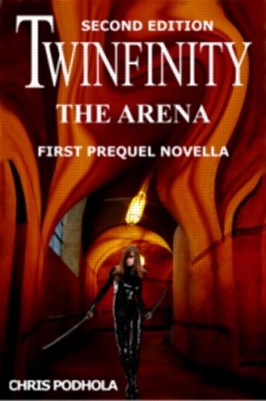 All rights reserved. No part of this publication may be reproduced, distributed, or transmitted in any form or by any means, including photocopying, recording, or other electronic or mechanical methods, without the prior written permission of the publisher, except in the case of brief quotations embodied in critical reviews and certain other noncommercial uses permitted by copyright law. For permission requests, write to the publisher, at the e mail address below.
chrspodhola@gmail.com
This book is a work of fiction. Names, characters, places and incidents either are products of the author's imagination or are used fictitiously. Any resemblance to actual events or locales or persons, living or dead, is entirely coincidental.
This collector's edition would not have been possible without Doug Harter. His tireless efforts of editing made the finished product much better to read.
This novella is dedicated in memory of my mother. I love her, miss her and think of her every day. I sincerely hope that she, spirit living in the great beyond, has found peace and happiness.
The source of this story is SciFi-Stories