Preview
Gabatrix: the Cipra Campaign
by CMed TheUniverseofCMed
Copyright© 2022 by CMed TheUniverseofCMed
Science Fiction Story: Set after Gabatrix: The Warrior of Silence, Operation Desert Shrike is underway. The UHN and T'rintar clan prepare to launch an all out attack on the captured world of Cipra, a former human colony that had been long taken by the Aksren clan. Story does contain Sex, Love, War, Swearing, Light Humor, Violence, Blood, Combat, Interspecies, Male Human, Female Alien, Scalie, Human/Alien Sex, Breastfeeding, Lactating, Anthro, Impregnate, Consensual Drug Use (Weed Only), Consensual Sex, M/F
Tags: Science Fiction Space Dinosaurs Violence War Military Furry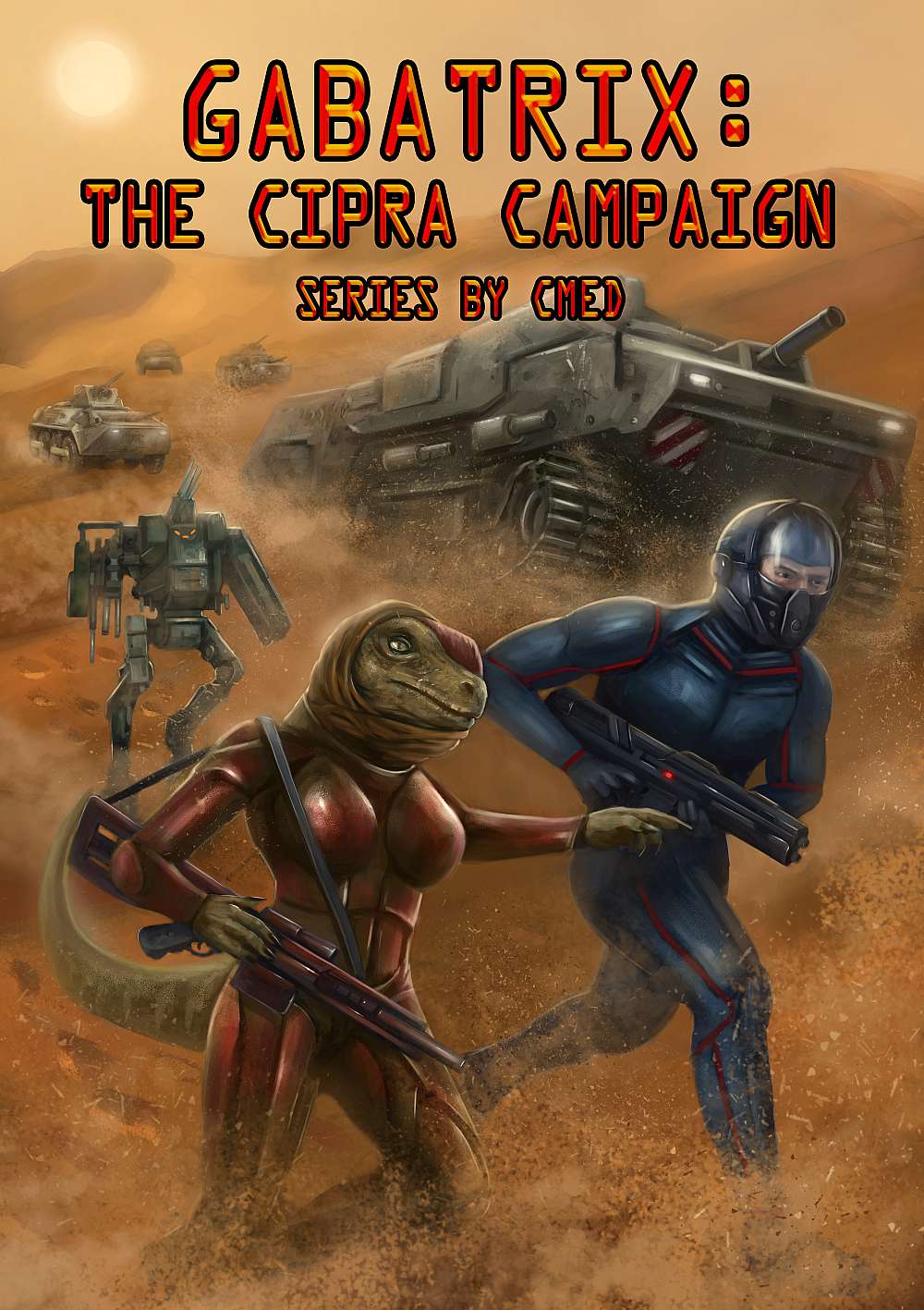 If you wish to support me on Patreon (TheUniverseofCMed), you can. Note that my Patreon cannot be located in Patreon's own search (since it deals with adult material). It can be located by regular search engines though (CMed Patreon for example). Money goes into helping me get additional artwork and helps me keep writing in general.
https://www.gabatrix.net
My books are available on Amazon Kindle and Google Play. Money made from that also goes into the universe too. All books are now available for Print on Demand for hardcopies as well.
Further artwork and concept work can be found (TheUniverseofCMed) on Deviantart, Furaffinity, Sofurry, and HF websites.
Disclaimer 1: This story is meant for adults as it contains sex, violence, light cursing, blood, and possible light gore (in relation to the violence only). Combat consists of both space, air, and ground. There is a clear division between the sex and the violence.
Disclaimer 2: This book is an erotica, action, and science fiction rolled into one. Expect a scene of human/alien sex and love. Gabatrix is an ongoing series. It's highly recommended that the audience reads the earlier stories to enjoy the overall arc of this story.
Disclaimer 3: There is some drug use (Weed usage) from one character in the story. This is in reference to getting stoned or doped. The drug use does not involve forced sex (nonconsensual sex) or doping an individual into having sex.
Artwork by Piero Painter.
Special Thanks to my Patreon supporters:
Jordy, Mike Nixon, Frank Nordhaus, Nightsound, and Anthony Kestle for their generous donations
And, of course, the other patron supporters for allowing me to write and supporting the universe that I write. :)
The source of this story is SciFi-Stories